Hi there, this plugin seems to be exactly what I am looking for. I am trying to build a fansite community (nonprofit) where users can share their in game player housing builds with each other. I seem to be having a problem with the media page not showing in the group media page.
I get something that looks like this.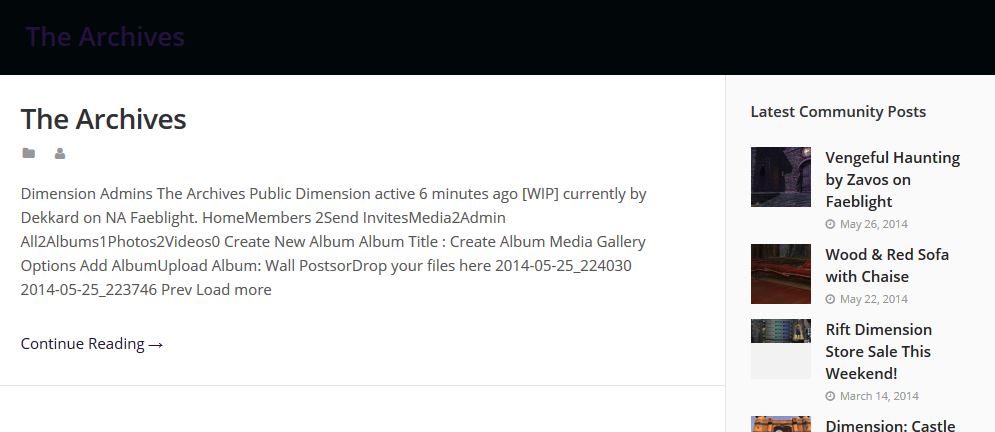 I am not completely sure what's going on here. The page seems to be using the Archive page for my blog with the sidebar.
I tried shutting down all the plugins (outside of bbpress and buddypress) to see if there were any conflicts and I didn't find any. I also tested a few other features, the upload from the activity feed seems to be working and the images show up in the group activity feed.
I tested out the demo site prior to downloading/installing the plugin to see if it was what I needed. I tried this fix after scanning the support threads and it didn't seem to work.
I really hope we can fix this! I'd really love to use this plugin for my site.
Thanks!
Litzy
Home URL http://www.riftadventures.com
Site URL http://www.riftadventures.com
PHP 5.3.13
MYSQL 5.5.32
WordPress 3.9.1
BuddyPress 2.0.1
rtMedia 3.6.14
OS Linux
Imagick Not Installed
GD bundled (2.0.34 compatible)
[php.ini] post_max_size 20M
[php.ini] upload_max_filesize 20M
[php.ini] memory_limit 256M
Installed Plugins Akismet by Automattic version 3.0.0,
bbPress by The bbPress Community version 2.5.3,
rtMedia for WordPress, BuddyPress and bbPress by rtCamp version 3.6.14,
BuddyPress by The BuddyPress Community version 2.0.1,
Jetpack by WordPress.com by Automattic version 3.0.1,
Page Links To by Mark Jaquith version 2.9.3,
The Events Calendar by Modern Tribe, Inc. version 3.5.1,
WangGuard by WangGuard version 1.6-RC3,
WP Canvas - Shortcodes by Chris Baldelomar version 1.39
Theme Name Social Buddy
Theme Version 1.0.11
Author URL http://herothemes.com/
Template Overrides plugins/buddypress-media/templates/media/album-gallery-item.php,
plugins/buddypress-media/templates/media/album-gallery.php,
plugins/buddypress-media/templates/media/album-single-edit.php,
plugins/buddypress-media/templates/media/media-gallery-item.php,
plugins/buddypress-media/templates/media/media-gallery.php,
plugins/buddypress-media/templates/media/media-single-edit.php,
plugins/buddypress-media/templates/media/media-single.php,
plugins/buddypress-media/templates/media/uploader.php
Total Albums 1
Total Photos 3