Hello,
In buddypress activités page, after upload image, and refresh the page, and click it, a message will show up ONLY IN MOBILE MODE:
Sorry!! there is no media found for the request.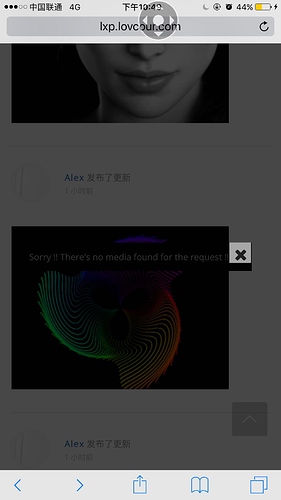 Wordpress 4.8 multisite, buddypress and rtmedia are activated in sub site, and only this plugin activated:
Plugins:
buddypress
Rtmedia
WP-defender
Theme:Kleo
other information:
Home URL
Site URL
PHP 5.6.99-hhvm
MYSQL 5.5.5
WordPress 4.8.2
BuddyPress 2.9.2
rtMedia 4.4.4
OS Linux
Imagick ImageMagick 6.8.9-9 Q16 x86_64 2017-11-16 'www.imagemagick.org'
GD bundled (2.0.34 compatible)
[php.ini] post_max_size 314572800
what you let me know how to resolve? thanks, and have a nice day.
Alex