Hello @davidblaise,
Please, once check and confirm if you are facing this same issue with any default theme of WordPress( 2014/2015/2016 etc. ).
Thanks.
No, well leave this. I don't find any uploader widget, in neither the default theme. Any shortcode??
Hello @davidblaise,
It should display the upload button to allow media upload under Media tab.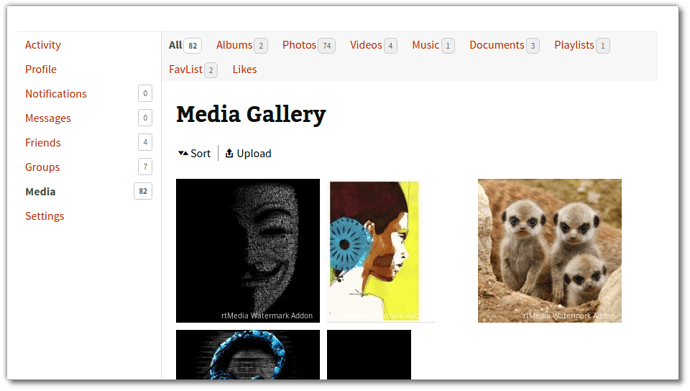 If you are still facing the issue then please deactivate other addon ( except rtMedia and BuddyPress ) and check if the upload button displays properly or not. It will help to avoid related conflicts at first place.
Thanks.
Hello,
I agree , this upload button is functional when user is not logged in and someone else views the profile. We click on 'Upload', login to WP and than what? How do i get a upload widget on the same profile page on sidebar??
Hello @davidblaise,
Please, once make sure you have enabled below rtMedia admin setting for your website:
Go to Dashboard > rtMedia > Settings > BuddyPress:
Set this option ON: Enable media in profile
Here is the related document link - https://rtmedia.io/docs/settings/buddypress/
Let me know if this fixes your issue.
Thanks.